The 'Mechelse Heide' is the perfect entrance gate for exploring the park on foot. From mid-August to mid-September, the flowering heathland transforms this landscape into a purple painting. Unlike the other entrance gates, there is no visitors' lounge here. Nature speaks for itself!
Hiking
No fewer than seven hiking loops start from this entrance gate. There are also five hiking loops at pickup places Station Eisden and 'Kikmolen' campsite.
In a nutshell:
largest heathland
panoramic views
former gravel and sand pits 
Would you rather go exploring with a Ranger? Click here.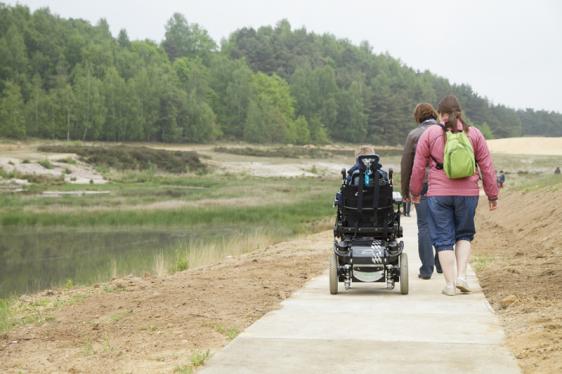 'Zandloperpad' (Sandpiper Path)
The paved track from the car park leads to the 'Zandloperpad' (Sandpiper Path). This 1.5K wheelchair track through the former sand quarry shows off the National Park's different biotopes. A pocket-sized national park, if you will. A bird hide, a wooden deck and a few physical challenges make it even more fun.
Dedicated dog play area
You can let your four-legged friends off the leash in this area, provided they are obedient when called. They must not run after game or obstruct hikers.
Starting place 'Mechelse Heide' and Maasmechelen swimming pool: between hiking switches 41 - 42, between hiking switches 45 - 46
Starting place Kikbeekbron, hiking switch 52 - 53
At the entrance gate:
Campsite with cafeteria 't Salamanderke (fully accessible to people with disabilities), picnic area and playground, www.campingsalamander.be
Along the route:
Nearby:
Fabiola holiday home: youth holiday centre with special attention for children with disabilities, www.kfh.be
Entrance gate 'Mechelse Heide' is on junction 60. There is no bike rental locally.
Mechelse Heide Entrance Gate
Address: Joseph Smeetslaan 280, 3630 Maasmechelen
Nearest bus stops: Maasmechelen Mechelse Heide or Maasmechelen T. Boslaan
Nearest parking lot:
Joseph Smeetslaan 280, 3630 Maasmechelen
Ringlaan 400, 3630 Maasmechelen
Boarding point Eisden Station
Address: Spoorwegstraat, 3630
Nearest bus stop: Eisden Bremstraat or Eisden Pauwengraaf
Nearest parking lot:
Spoorwegstraat, 3630 Maasmechelen
Europaplein 7, 3630 Maasmechelen
Boarding point Camping Kikmolen
Address: Kikmolenstraat 3, 3630
Nearest bus stop: Opgrimbie Kikmolen
Nearest parking lot:
Weg naar Zutendaal, 3630 Maasmechelen