Insect Life on barefoot
'Lieteberg' is the gateway to the MICROKOSMOS. A visit to the underground insect centre 'Entomopolis' should not be missed. Besides tickling critters and fluttering butterflies, you can also walk barefoot. A special sensation. 
'Blotevoetenpad' (Barefeet Path)
Use all your senses and both your feet to perceive the special stimuli of wood, stones, tree chips, grass, loam and water on a carefully composed track peppered with fun 'obstacles'. Cold and warm, humid and dry, pleasant and stimulating alternate on a trail of almost 3 km, which is only accessible barefoot. On the way, you will come across a number of spectacular things.
Entomopolis 
Look down and discover the fascinating world of insects. Entomopolis teaches you in a playful and interactive manner that insects are useful and not creepy at all. Then follow the insect trail, a walk of 2.5 km to the 'Bee Tower', the largest insect house (but also for other animals) of the National Park.
Butterfly Dome
In the covered butterfly garden, you can admire 30 of the 75 species of butterflies and a few moth species. Here are only plants they like and where they can nest safely.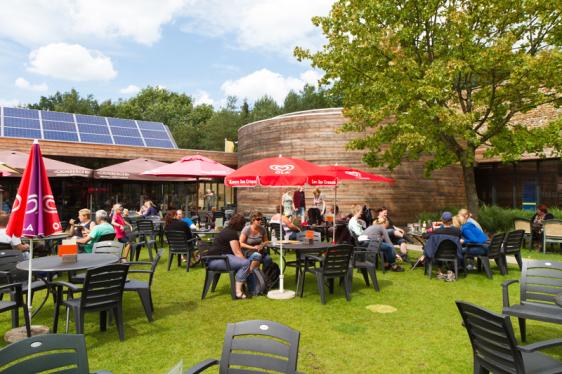 In the cafeteria with garden patio, you can rest your weary limbs and enjoy a piece of 'vlaai' (sweet flan), a Belgian beer or a hot chocolate. Picnics are allowed. The centre of Zutendaal is within driving and cycling distance, where you will find a range of catering outlets.
The hiking area 'Lieteberg' boasts nine hiking loops, four of which start at the entrance gate (visitors' lounge car park). The other loops are accessible from pick-up places nearby.
In a nutshell:
woods
meadows
juniper hedges
recognised silent area
transition to Haspengouw
Would you rather go exploring with a Ranger? Click here.
Book via +32 (0)89 25 50 60.
'Lieteberg' is on bicycle junction 64.
Opening hours:
March from 10.00 - 16.00 hours
Last departure barefeet Path: 14.00 hrs.
Last departure Entomopolis: 15.00 hours
April to ... from 09.00 - 19.00 hours
Last departure of the barefeet path: 17.30 hrs.
Last departure Entomopolis: 18.00 hours
Please note: booking is compulsory (following covid-19).
Tickets: 
Barefeet path: € 6 per person (children < 120 cm: € 4.50), groups of 20 people or more: € 4.50
Entomopolis: € 6 per person (children < 120 cm: € 4.00), groups of 20 people or more: € 4.00
Combi ticket barefeet Path - Entomopolis: € 9 (children < 120 cm: € 6.50), groups from 20 people: € 6.50
Butterfly Dome: € 2 (children < 120 cm: € 2), groups of 20 people or more: € 1
Contact:
vzw 'Lieteberg', Stalkerweg , 3690 Zutendaal
STALKERWEG, 3690 ZUTENDAAL
T: +32 (0)89 25 50 60 
www.'Lieteberg'.be