Are you ready for more than 440 km of hiking fun? No fewer than 51 loop-shaped walks of 3 km to 17 km lead you along the most beautiful spots in and around the Hoge Kempen National Park. It is best to start at the entrance gates or reception points, where all facilities such as parking, information board and usually catering facilities with toilets are available.
Each hiking area consists of the same ingredients. At all starting points there is an information board at the parking lot with a detailed map of the area. You can choose from a number of loops that vary in length, taking you past the most special places.

Each loop is identified by a colored symbol visible on wooden posts along the trail. Follow the symbol and you will return to the starting spot. Some loops can be reached by first following a brown connector. You can always return because the loops are signposted in two directions. So getting lost is impossible. Choose your color and enjoy a carefree hike.

You can walk our hiking loops in three ways:
*Choose a hiking area, drive to the starting spot, choose a route on the information board, and follow the colored signage on the hiking poles.
*Purchase a hiking map, drive to the starting spot indicated on the hiking map, and follow on the map and/or via the signage.
*Download a GPS route from our (partner) websites, and follow the route via your smarphone or hiking GPS. You can find our digital routes at the moment on these websites (and more will be added in the future):
Below is a digital map of all the hiking loops within the National Park. You can filter by distance.
On our umbrella website "Walking in Limburg" you get an overview of all our routes, and the neighboring nature reserves.  
Also on the Dutch variant route.nl you will find all our walking routes in a digital overview.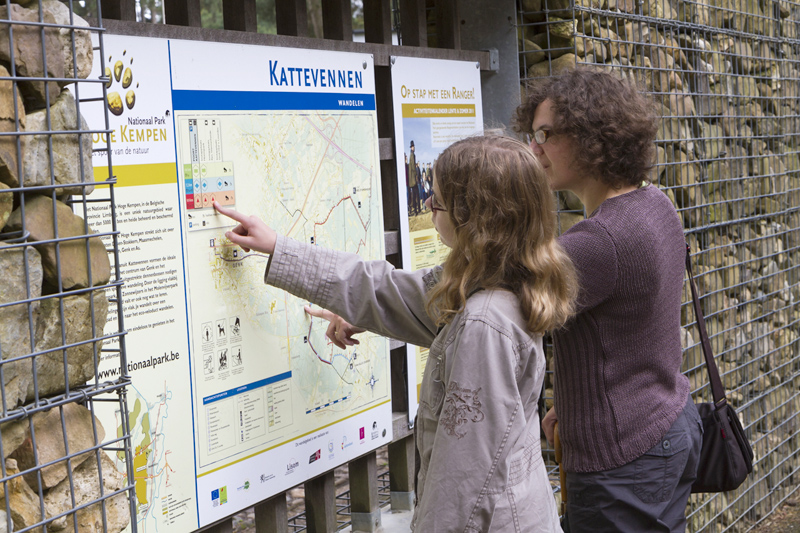 Colour codes of the hiking loops
green: shortest loops (0-5 km)
blue: medium short loops (3-8 km)
red, purple and orange: medium loops (7-14 km)
yellow: long loops (10 - 16 km)
Hiking loops of the National Park
The National Park has many faces and each hiking area has its charms. Hard to choose? A brief introduction:
Switching with walking changeovers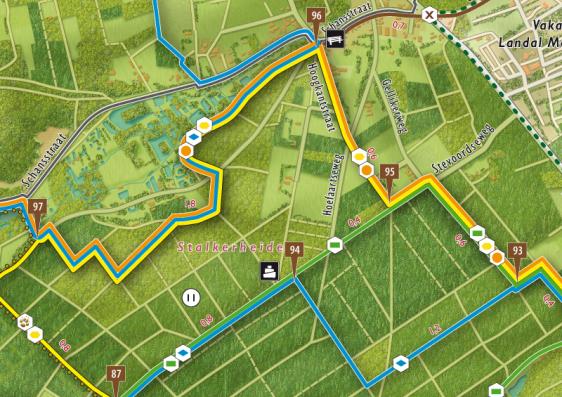 Would you rather combine walking loops yourself? Then keep an eye on the walk turnouts. Hiking turnouts mark the places where hiking loops intersect. These intersections each have their own number, indicated on the hiking pole and map. To get to another hiking turnout, choose the colored symbol of a hiking loop toward that hiking turnout.

The hiking map is an indispensable guide to easily switch to another hiking loop. This creates countless combination possibilities in one large network, across the borders of different hiking areas.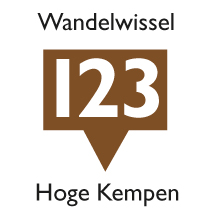 Want to report a problem on our trails, such as signage, infrastructure or a difficult passage? Then fill out our report form, and, if necessary, we will resolve the report as soon as possible. Together we make the Hoge Kempen National Park even better!
If you want to explore the National Park in group (+10 people), our rangers are ready to guide you. Only Rangers are trained and authorized to guide groups. They are licensed every year by the Agency for Nature and Forests.
Large groups (+10 people) with their own guide/organizer should ">contact us first, so that we can help you further, and furthermore offer a customized program. 
Our first duty is to protect nature, so that your (great) grandchildren will soon be able to enjoy this beautiful area. An important guideline is to keep your dog on a leash. All information can be found on our dog page.
Long-distance hike National Park Hoge Kempen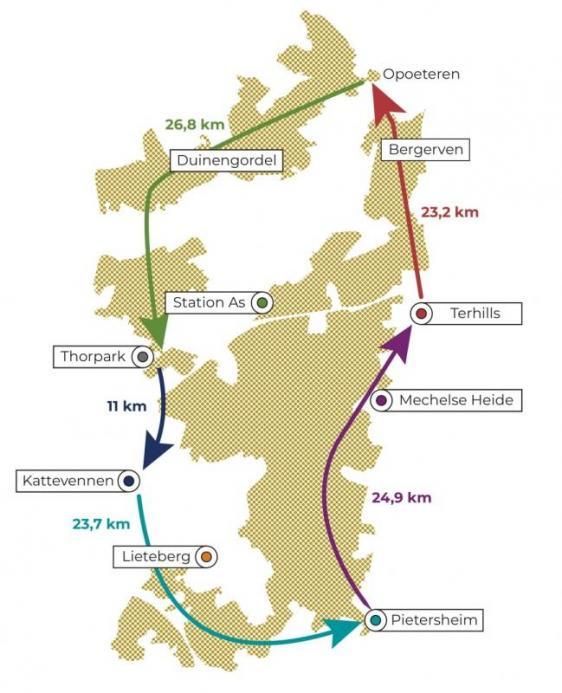 The National Park Trail is a long-distance hike of 110km, which shows you the most beautiful places of the Hoge Kempen National Park. The National Park Trail has a lot of surprises in store: Seven climbs, vast moors, beautiful fens, wide lakes, dunes and fragrant forests. It is one of the few hikes in Flanders where you will see little buildings and/or traffic for more than 100km.
The route is 90% unpaved, and has 900 altimeters. 
The National Park Trail will be freely accessible from June 2022. Then you can hike the 110km however you like; you decide the number of stages, direction, start, and mileage. You can choose to hike the full 110km loop or shorter variants.
The walking loop consists of 5 stages, and in addition we have several variants to walk a shorter route. You can plan your own long distance hike with our route planner. 
All info, stages, route planner, accommodation options, and more can be found at WWW.NATIONALPARKTRAIL.BE
Top hikes (+20km hiking loops)
Six unique top walks in the Hoge Kempen National Park. Each walk is located in a different area of the National Park, and consists of a walking loop of about 20km. The hiking loop always starts at a recognized starting point where parking, information boards and catering facilities are available. The routes are often a combination of our shorter hiking loops, completed with some unique trails where there are no signposted routes.

Please note: These hikes are NOT marked on the property, there are no posts. These hikes can only be hiked via GPX or Komoot. You can view the hikes on our Komoot page, and download them there as GPX, or import them into your own Komoot app. 

To enjoy the full functionality of the Komoot route planner (e.g. GPX download), you need a "region code". With this code you can unlock the region "Limburg/Antwerp/Brabant".  Therefore we give in cooperation with Komoot this region code worth 8,99€ absolutely FREE. Click on the link below to request your unique free code. You can redeem the code at www.komoot.com/g


Favorite hiking trails from Visit Flanders
GR 561 starts at the Schaffense Poort in Diest and ends at the old Sint-Servaas bridge in Maastricht. First you hike through the Hageland and flirt with three provincial borders. You might notice an otter in the Nete Valley. Near Lommel, sand mining has left behind the fascinating Sahara plain. And near the Dutch border you'll discover the fairy-tale winding Dommel. If you turn south at Valkenswaard, the landscape gets rougher: Leenderbossen, Stamprooierbroek and traces of gnawing beavers. Via Opitter and Opoeteren you enter the Mechelse Heide, the highest point of the Hoge Kempen National Park. And suddenly you are in the Meuse Valley and can explore Maastricht.