Go back into time on the former royal estate 'Pietersheim' (covering 76 ha!) that features the 12th-century 'Waterburcht' (water castle).  In the visitors' lounge, you'll learn all about the estate's glorious history. The petting zoo with playground is great fun for the little ones.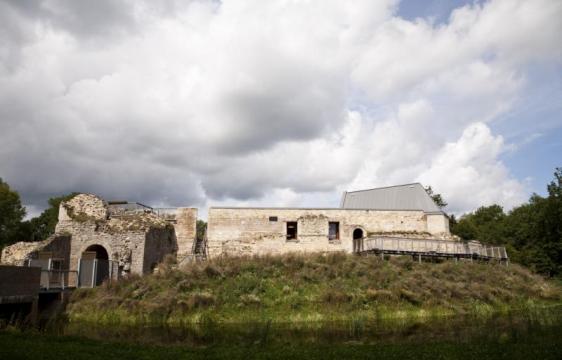 'Waterburcht' (water castle)
After years of restoration work, the 'Waterburcht' (water castle) has been restored to its former glory.  From the medieval castle you can still make out the circular retaining walls and gate tower. From the tower, you have a panoramic view over the castle's park and courtyard.  The 16th-century chapel hall, that has undergone a complete overhaul, is used for weddings. A visitors' lounge was built in the ruins of the castle, which also serves as an information point for the National Park. You will find out about the glorious past of knights and noblemen in 'Pietersheim' and Lanaken. You can visit the site on your own or book a guide.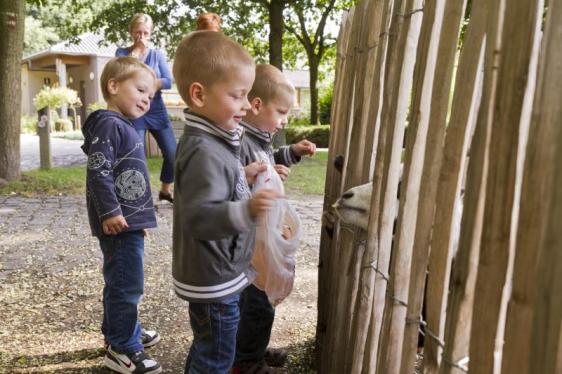 Petting zoo with playground
Whether you play in the large playground or stroll among the farm animals, children are guaranteed a fun time. There is even a 'cuddly meadow' where sheep and goats can be cuddled under supervision.
Lotte and Giel's House
Lotte & Giel's House is a small livestock stable with 20 indigenous breeds of rabbit and poultry. Find out more information through the various information panels and interactive games.
'Kabouterpad' (Gnomes' Path)
Squirrel Quip introduces you to the gnome family that lives on the 'Pietersheim' estate. The 3K gnomes' path (or 40,000 gnomes' steps) leads you along different nature games. The children can help make the large family tree, hug a tree, cook using the large bread oven and cauldron, play music with real gnomes' instruments, etc. Start at the petting zoo or at the 'Waterburcht' (water castle). 
Accommodation and eateries
Café-restaurant Hoeve 'Pietersheim' (at the playground). www.traiteurjaco.be, T: +32(0)89 72 14 61
Group accommodation: groups of 20 up to 68 people can stay at the lodging house cheaply, either on a self-catering or full-board basis. T: +32 (0)89 71 21 20, 'Pietersheim'@lanaken.be
Pietersheim Castle, +32(0)89 217 207, www.pietersheim.com
Information and reservation T. +32 (0)89 71 21 20 (during office hours)
'Pietersheim' is between junctions 131 and 140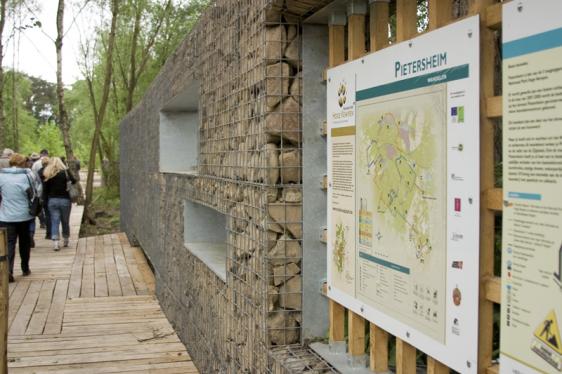 The 'Pietersheim' hiking area boasts eight signposted hiking loops, four of which start at the entrance gate ('Waterburcht' (water castle)), while the others are accessible from pick-up places nearby.
In a nutshell:
beech tree-lined avenues
'Waterburcht' (water castle)
myrtle
stream valleys
steep slopes
wet heathland 
'Waterburcht' (water castle)
01/10 - 30/04: weekends from 13h to 16h
Exceptions: 
Easter holidays: open daily from 10 a.m. to 5 p.m.                           
Autumn holidays: open daily from 1 p.m. to 5 p.m.                           
Christmas holidays: open daily from 1 p.m. to 4 p.m. 
Petting zoo and playground
daily between 9.00 a.m. and 6.00 p.m.
admission is free
T: +32 89 71 21 20,
Location
Car park 'Waterburcht' (water castle): Waterstraat, 3620 Lanaken 
Petting zoo car park: Neerharenweg 12, 3620 Lanaken 
Nearest busstop: Lanaken Wijngaardstraat