In the National Park and surrounding areas, it is wonderful to cycle: shady forests with the occasional view of the heathland or along quiet towpaths. In addition, many trails are completely car-free. This area does come with one or two slopes, but you will be rewarded with a wonderful panorama at the top.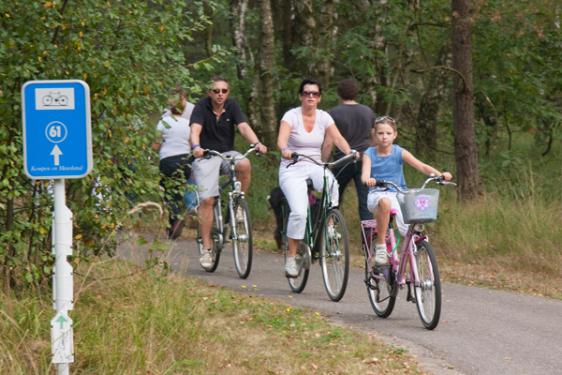 The cycle route network of the Regionaal Landschap Kempen en Maasland allows you to discover the National Park by bike. The handy junction system is very flexible. The blue signs are your guide along the way. You can start at any gateway and rent a bike in most places.
For a scenic 58.7 km route, start from Gateway As railway station.
Junctions: 41-501-42-44-48-55-60-61-550-62-532-64-532-29-30-535-565-41
'Station As': from Easter to September, ,+32(0)89 39 10 86 
'Kattevennen': from Easter to September, fietsparadijslimburg.be
'Lieteberg':  www.fietsparadijslimburg.be
'Pietersheim': book via Tourisme Lanaken+32 (0)89 71 21 20  (also Ebike and mountainbikes)
Companies:
E-bike2Rent, Oudsbergen ( Enkel Ebikes + EMTB, leveren ook op bestemming op aanvraag)
Fietshuislanaken, Lanaken
Orshof, Oudsbergen  (also MTB)
Charging stations?
You can easily plug in your e-bikes at 'Kattevennen' (eatery Kattevenia), 'Mechelse Heide' (cafeteria 't Salamanderke), 'Pietersheim' (cafeteria of the petting zoo).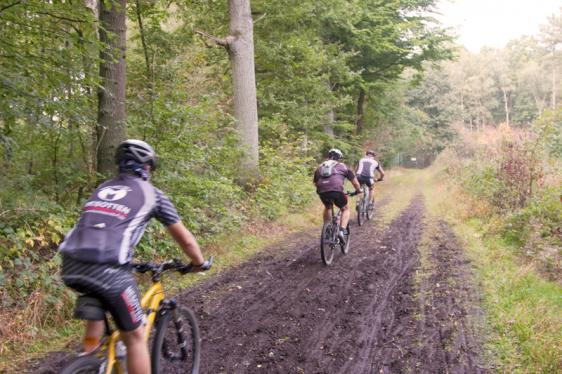 The province and the municipalities involved have been working for months on the mountain-bike network of the Hoge Kempen National Park. The network includes 160K of mountain bike tracks, spread over six loops.  Both the novice and the advanced biker will find something to their liking here. The precipitous edge, which was created by the transition between the Meuse valley and the Kempisch plateau, makes for the often steep climbs and descents, with height differences of up to 45 meters.
For mountain bikers who like an even bigger challenge, there is the bike marathon: an 80K trip. Black arrows show them the way on this route between Maaseik and Lanaken. In the north and south, the routes link into the network of 'Duinengordel', Central Limburg and the Euroregion.
Starting places:
'Kikmolen' campsite Maasmechelen
Opoeteren church square
Kapel van de Weerstand Dilsen-Stokkem
'Mechelse Heide'
Eisden railway station
Papendaalheide Zutendaal
Blookberg sports centre in Zutendaal
'Pietersheim' petting zoo
As railway station