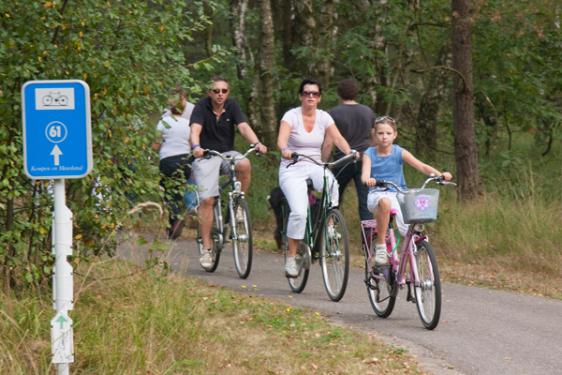 The National Park and its surroundings are great for cycling: shady forests with occasional glimpses of heathland or along quiet towpaths. Moreover, many stretches are completely car-free. The occasional incline is part of the job, but you do get a nice view as a reward.
You can discover the National Park by bike via the Kempen and Maasland Regional Landscape cycling route network. The handy junction system is very flexible. The blue signs are your guide along the way. You can start at any entrance gate and rent a bike at most places.
More of a mountain bike fan? Discover our extensive route network further down this website.
There are two ways to explore our 12,000ha National Park by bike:
Create your own route using nodes: On VisitLimburg's route planner, you can plan your ideal route yourself, then print or download it. During your leisurely bike ride, all you have to do is follow the numbers/junctions on the blue signs.
Or follow one of the advisory routes that have already been mapped out. Especially handy if you don't know the area very well. Here, too, you can print and/or download the route, and then simply follow the signs. Below are the seven advisory routes:
You can view, and download, the routes via Komoot. You can register for free for Komoot, and if you do not yet have a regional map "Limburg", we will give you one for free (worth €8.99). You can find more info about Komoot here.
Rentals from companies:
E-bike2Rent, Oudsbergen (Ebikes only + EMTB, also deliver at destination on request)
Fietshuislanaken, Lanaken
Orshof, Oudsbergen 
Charging poles?
At Kattevennen (eatery Kattevenia), Mechelse Heide (cafeteria 't Salamanderke), Pietersheim (cafeteria Kinderboerderij) you can easily plug in your e-bike.
Bike rental National Park Visitor Center - Terhills (from 15 June 2023)
At the main entrance gate of the Hoge Kempen National Park, called the National Park Visitor Center, you can rent electric bicycles. The Visitor Center is located at Zetellaan 70, 3630 in Maasmechelen, and is open daily from 9am to 6pm.
Book your electric bike online here, and we'll get the bike(s) ready for you.