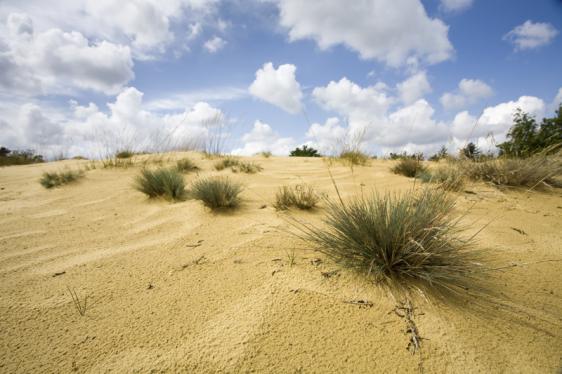 The pearl of Duinengordel is the Oudsberg: the highest and largest open shifting dune of Flanders. It rises 85 m above sea level. The Oudsberg is surrounded by beautiful heath lands, stately forests and butterfly-rich grasslands. 
At the top, a magnificent panorama awaits you. In recent years, the nature reserve has undergone a 'facelift' to increase its biodiversity. So you get the same view as before: dunes with heather, a lot of sand, some trees and all that surrounded by a forest belt. Dune belt is sandy and dry. An exception to this sandy and dry character are the fens: Ruiterskuilen, Turfven, Zwartven and Schaapsven. Like an oasis in the desert, these fens have a special attraction to plants and animals. On www.duinengordel.be you will find more information about this beautiful area.
Photo: Erwin Christis
Currently, there are 4 reception points where visitors can go for more information about Duinengordel and from where they can start their visit to the area:
Welcome point Orshof:
This Kempenish farmhouse, located on the edge of Duinengordel, houses a restaurant and seminar centre. You can stay overnight in the cosy guest rooms. Furthermore, there is a large garden with a pond, a riding school, bicycle rental and the possibility to charge your electric bicycle. 
It is the ideal base for horse riders, drivers and mountain bikers. You can also go there by bike or on foot.
Information:
Heymansweg 2, 3670 Neerglabbeek (Oudsbergen)
T: +32 89 81 08 00
E: - www.orshof.be

Opening hours:
open all days
Welcome point Zavelbos:
Camping Zavelbos is nestled between the woods and fens of Duinengordel. It is the ideal starting point for a walk to Oudsberg, but also for various cycling, equestrian and mountain bike routes.  After your tour, you can laze about on the playground, unwind at the campsite with its beautiful pond or satisfy your hunger in the tavern.
Information:
Kattebeekstraat 1, 3680 Maaseik
T: +32 89 75 81 46
E: - www.zavelbos.be

Opening hours:
open all days
Welcome point Sentower Park:
This equestrian centre is directly connected to the woods and fens of Ophovenderheide. De Oudsberg is just a stone's throw away. The spacious parking area is ideal as a starting point for riders. You can also charge your bicycle here or enjoy a snack and a drink in the equestrian café in the central hall or on the terrace during events.
Information:
Leemkuilstraat 21, 3660 Opglabbeek (Oudsbergen)
T: +32 89 36 43 17
E: - www.sentowerpark.com

Opening hours:
The equestrian café in the main hall is open almost 7/7.
The terrace is only open during training, competitions and events.
Welcome point De Kastelein:
Bike and food café De Kastelein is located in the centre of Gruitrode, near the Commandery of Gruitrode. From here, numerous signposted routes depart on foot or by bike. You can also recharge your electric bicycle at this reception point.

Information:
Phil Bosmansplein 1, 3670 Gruitrode (Oudsbergen)
T: +32 89 85 76 50

Opening hours:
Closed on Wednesdays
Still to come: Gruitrode Commandery - gateway to the National Park
The German Riddder Order, mainly known from the Commandery of Alden Biezen in Bilzen, also settled in rural Gruitrode. From the beginning of the 15th century they built an outhouse here under the responsibility of the Commander. The Gruitrode Commandery is not accessible today. The entire site is undergoing thorough renovation to become a fully fledged "Gateway to the National Park".  It will be the ideal base for exploring Duinengordel, the Itterbeek Valley and nearby Opitter.
For those who want to explore Duinengordel today, there is an extensive range of walking routes.
With the walking maps Oudsberg, Solterheide and Donderslag in your pocket, you are spoilt for choice.
Joekelbos, the largest play forest in Flanders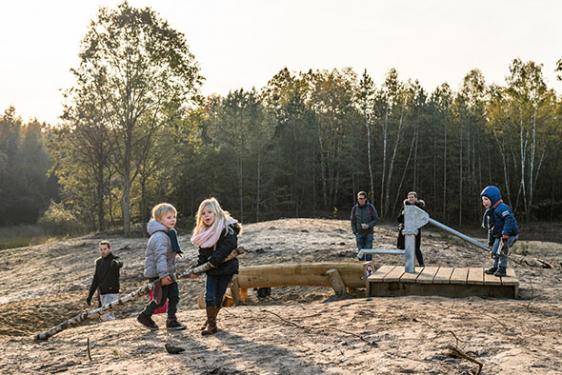 The largest adventure play forest in Flanders: 10 play elements, wooden animals, play dune with water and hideaways invite you to romp!
The paved part of the path is accessible for wheelchairs and prams.
Access via Speeltuinstraat in Opglabbeek or by bicycle between junctions 526 and 527.
Information:
Download the map with www.duinengordel.be/joekelbos
Foto: Kris Thijs
Pole camping sites Itter and Solt are located in the middle and at the edge of the woods in Solterheide. You will find a tent platform, a water pump, picnic bench and shelter.
Accessible via Great Route path (GR) 561 Kempen-Maaspad between Opitter and Neeroeteren. Both areas are only 700 to 800 metres apart via forest paths.
GPS coordinates: Itter: N 51 06.283 E 5 39.200 - Solt: N 51 05.983 E 5 39.183
Picnic decking by the water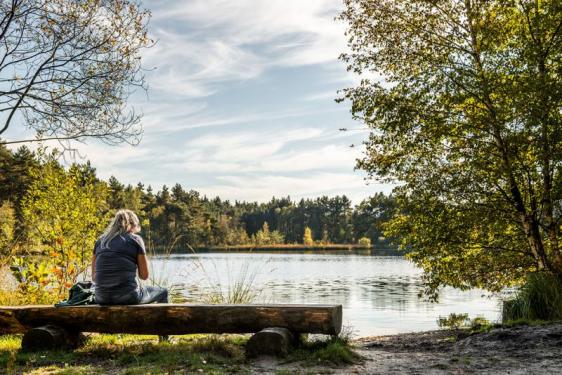 In Duinengordel, you will find a few pearls of picnic spots near the walking and cycling route network.
Where?
Ruiterskuilen (Opglabbeek): between junctions 33 and 70 or via the yellow and blue walking loop in the Donderslag walking area.
Bosbeek (Opoeteren): between nodes 37 and 38.
Photo: Kris Thijs