Do you like adventurous mountain biking through a beautiful landscape? Then come to the area around Hoge Kempen National Park. Here, you will cross beautiful forests and enjoy beautiful views in a varied landscape. The network includes 200 km of mountain bike trails, spread over 8 loops. The routes run for 98% over unpaved paths and are suitable for bikers of all levels.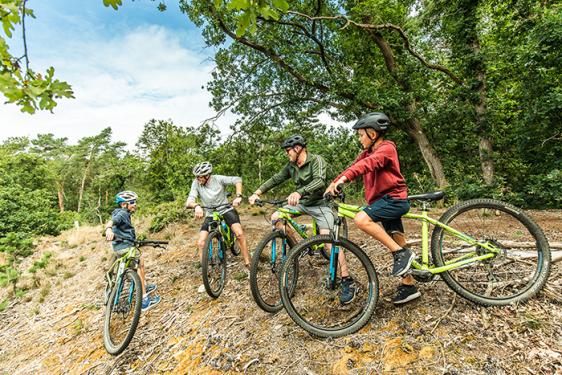 The mountain bike network of the National Park is very flexible thanks to the convenient junction system. The province and the municipalities involved have worked for months on the mountain bike network of the Hoge Kempen National Park. The steep ridge, created by the transition between the Maas valley and the Kempish plateau, ensures that there are often steep climbs and descents with height differences up to 45 metres.
For mountain bikers who like to see the challenge even bigger, there is the bikemarathon: a tour of 80 km. Black arrows show them the way on this route between Maaseik and Lanaken. In the north and south, the routes connect to the network of Central Limburg and the Euregion.
Starting points
Camping Kikmolen , Kikmolenstraat 3, Maasmechelen
Kerkplein Opoeteren, Maaseik
Kapel van de Weerstand, Brugstraat, Dilsen-Stokkem
Mechelse Heide, Joseph Smeetslaan 280, Maasmechelen
Station Eisden, Spoorwegstraat z/n, Maasmechelen
Terhills Cableski, Nationaal Parklaan 5, Dilsen-Stokkem
Papendaalheide, Sellerveldstraat, Zutendaal
Sporthal Blookberg Zutendaal, Blookbergstraat 1, Zutendaal
Kinderboerderij Pietersheim, Neerharenweg 12, Lanaken
Station As, Stationsstraat 124, As
Camping Zavelbos, Kattebeekstraat 1, Maaseik
Sentower Park, Leemkuilstraat 21, Oudsbergen
Sportzone Gruitrode, Groenstraat 38, Oudsbergen
Rent an (e-)mountain bike
In Oudsbergen at E-bike2Rent you can rent e-mountainbikes and other electric bikes. On request, they also deliver to your destination.
Charging points
At Kattevennen (Kattevenia eatery), Mechelse Heide (cafeteria 't Salamanderke) and Pietersheim (cafeteria Kinderboerderij) there are charging stations for electric bikes.