In the northernmost tip of the Hoge Kempen - between Maaseik and Dilsen-Stokkem - is Bergerven, a former gravel extraction site transformed into lakes where nature is given space again. The landscape provides peace and inspiration. Manager Limburgs Landschap uses large grazers to manage the area.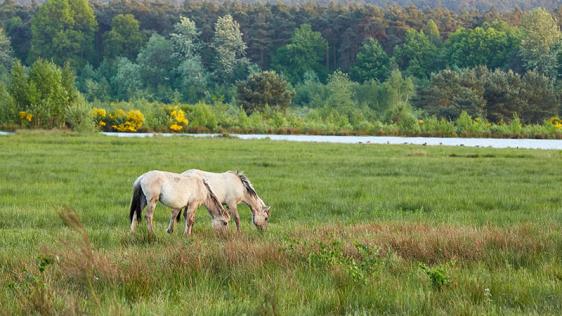 Hiking
There are 8 walking routes between 2 and 15 km.
You can expect to find:
a former gravel pit
lakes
canal
steep slopes
pine forests
konik horses
Chapel of the Resistance
Starting point Kapel van de Weerstand (Chapel if the Resistance) is the most central starting point for an exploration of the Bergerven nature reserve, which has been managed by the Limburgs Landschap nature association for many years.
Still planned: 't Eilandje - Gateway to the National Park 
The Zuid-Willemsvaart, built in 1825, is a charming canal that connects Maastricht to Weert. When a bend in this canal was cut off at Opoeteren in the 1930s, an 'island' was created. This is already an ideal stopping place for the many cyclists on the towpaths, but in the coming years, a new "Gateway to the National Park" will be developed here. However, it will have to wait until a bridge for cyclists and walkers is built across the canal to provide access to the new BERGERVEN wilderness behind it.
Years ago, Warredal started out as an equestrian centre, which still enjoys great prestige. This was complemented by an Adventure Park and a real Forest Camp, where you can stay in cosy cabins that take you back to basics.
Information:
Ketelstraat 77, 3680 Maaseik (Neeroeteren)
E: - T: +32 89 85 23 16
www.warredal.be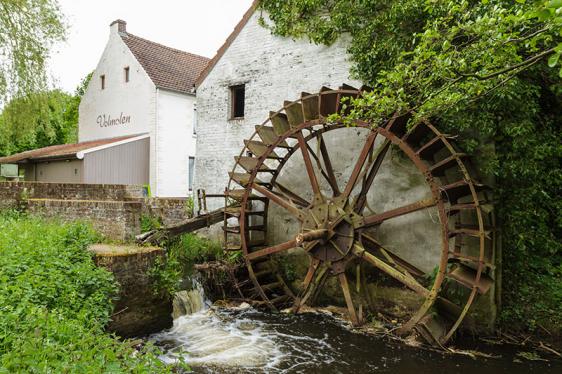 The Volmolen is a 17th century water mill, which has been renovated into a unique, hospitable place.  You can stay at the holiday accommodation B&B Volmolen, a B&B with a focus on sustainability, peace and quiet. The flamenco dance studio with organic tapas and wine bar and shop is a special meeting place where everyone is welcome.
B&B Volmolen
Volmolenstraat 10, 3680 Maaseik (Opoeteren)
T: +32 493 79 23 31 - +32 89 86 64 67
www.vakantieverblijfvolmolen.be
Dance Studio Volmolen:
Volmolenstraat 11, 3680 Maaseik (Opoeteren)
T: +32 473 59 37 11
www.danshuis-volmolen.be
Be sure to visit the Dorpermolen! This buckwheat mill, restored in 2017, is the oldest mill in Opoeteren.
Opening hours:
May, June and Sept.: every 1st and 3rd Sunday of the month from 2pm to 5pm
1 July to 31 August: Saturdays and Sundays from 2 to 5 p.m.
Price: free
Info: 
Toerisme Maaseik
T: 089 81 92 90 - E:
www.toerisme.maaseik.be/watermolens
Starting point Opoeteren
Address: Crossroads Kerkplein/Dorpermolenstraat, 3680 Maaseik (Opoeteren)
Start hikes: Green 4 km, Yellow 14,7 km
Bus stop: Opoeteren Dorp (Bus 11 Genk - Maaseik from Genk Station)
Nearest parking lot:
Parking Kerkplein Opoeteren (Kerkplein, 3680 Maaseik)
Bosbessenpleintje (Leustraat, 3680 Maaseik)
Parking Kerkhof (Ridderpadstraat 45, 3680 Maaseik)
Starting point Chapel of the Resistance
Address: Brugstraat, 3650 Dilsen-Stokkem
Walking route: Green 2,7 km (wheelchair friendly), Blue 7 km, Orange 9,8 km & Yellow 14,7 km
Nearest bus stop: Rotem E. Dorlaan
Nearest parking lot:
Parking Kapel van de Weerstand (Brugstraat, 3650 Dilsen-Stokkem)