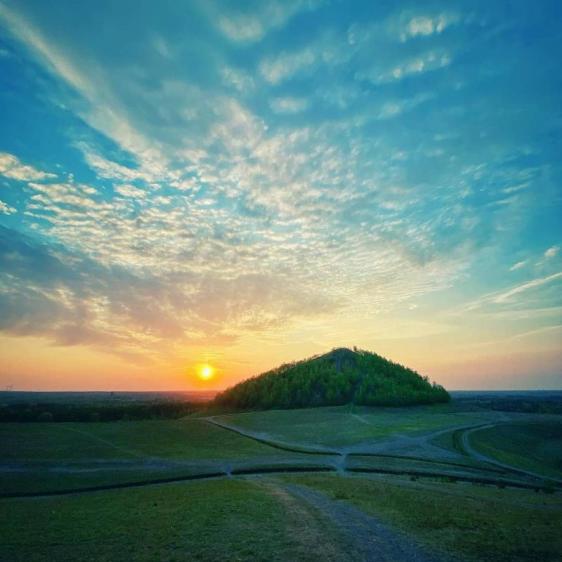 The Hoge Kempen National Park is a 12,000 ha nature reserve with more than 440 km of hiking trails. The Hoge Kempen National Park is the only one in Belgium and is one of the most beautiful nature parks in the country. With more than 1 million annual visitors, we are a favourite spot for hiking enthusiasts from home and abroad. Besides our many short walks, between 2 and 20 km, we also have long-distance walks of 75 km*. This long-distance walk will be thoroughly updated in 2022 to a route of over 100 km, called the National Park Trail!  
The National Park Trail has a lot of surprises in store: 7 climbs, extensive heathland, beautiful fens, wide open lakes, dunes and fragrant forests. It is one of the few hikes in Flanders where during more than 100km you see few buildings and/or traffic. Pure nature! The National Park Trail is accessible to everyone from Tuesday 7 June 2022. The trail has permanent signage, and from that day on you can also plan your own route on this website. 

To festively open this new trail, we organize a multi-day hiking event: the National Park Hiking Festival. This will take place during the Whitsun weekend in 2022: from Friday 3 June to Monday 6 June. We challenge you to hike the 100 km trail in 4 days, but you can just as well participate in one of the day stages. We provide transfers, picnics and - for the enthusiasts - original camping spots, you just have to walk and enjoy!
How does it work?
First you choose a 4-day ticket or a day ticket:
With a 4-day ticket (50€, excl. administration costs) you hike the entire 100km trail in 4 days. You choose which days you need a (free) bus transfer, and when you want a packed lunch.
With a day ticket (15€, excl. administration costs) you can walk one of the four daily stages of about 25km. Here too you can choose a (free) bus transfer and/or a packed lunch. Of course you can also buy several day tickets.
NEW: You can now book a group arrangement: You hike in small groups and camp together at unique places. All meals and transfers are provided. 
Note: We limit the number of hikers to 500 per day, so don't wait too long to book your tickets!

Stages
These are the stages. Most of the stages start and end at one of our access points, where all facilities are available: large parking area, toilets, catering, accommodation, ...  Each walking day starts between 8h and 11h.
Day 1, Friday 3 June: Kattevennen (Genk) - Pietersheim (Lanaken): 24 km (orange route on the map)
Day 2, Saturday 4 June: Pietersheim (Lanaken) - Terhills (Maasmechelen): 25 km (blue route)
Day 3, Sunday, June 5: Terhills (Maasmechelen) - Duinengordel (Opoeteren): 24 km (red route)
Day 4, Monday 6 June: Duinengordel (Opoeteren)- Thorpark (Genk): 27 km (green route)

*Note: in preparation of the new trail and the Hiking Festival, the old trail (75 km) will be dismantled in May 2022. That gives us time to signpost the new trail carefully. As a result, there will be no long-distance trail available in May 2022.

You find detailled information on the stages and route on this page.

What is included in the price of your ticket (excl. administration fee)?
access to the event
bus transfer from end point to start point (if desired)
insurance
coffee and cake at the start
water supply
sustainable (sugar cane and cork) refillable 1/2 litre water bottle (1 per participant)
trail map (worth 10€) + gpx of the trail (1 per participant)
Limburg flan on day 4 :-)
a nice souvenir for those who have walked the full 100 km
ORDER YOUR TICKETS HERE!

You can order multiple tickets in your purchase process. Each ticket has a unique QR code. You will receive all tickets in one email. The purchaser is responsible for distributing the tickets to the people for whom he/she bought a ticket. 
If you need any help with booking your tickets, give us a shout on