140 km of track dedicated to horse-riding and horse-drawn vehicles, 85% of which is unpaved, runs through the National Park. A lot of the riders and their horses come away, feeling very satisfied with their visits.
These tracks link into a network via junctions, which makes it easy to create your own trip.
From the riding schools in the area, you can set off on your own tailor-made trip. En route, you will find the necessary resting points and accommodation options.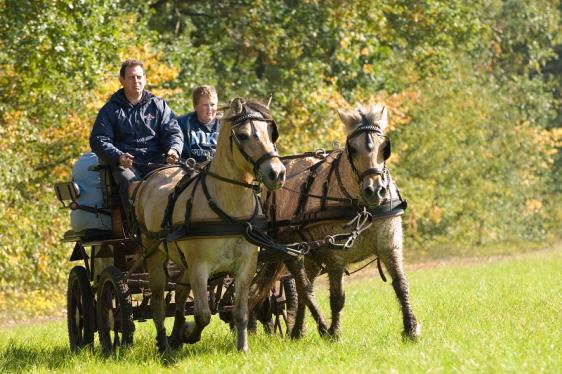 Riders and drivers of horse-drawn carriages are welcome on all tracks
Only where there are lock systems can only one pair of horses pass
Since tracks can be swampy in winter, some driver experience is needed
The equestrian track does not, or very rarely, overlap with walking and/or cycling paths. If they do, always give priority to walkers and cyclists, because not everyone feels safe near a horse.
Due to forest exploitation, agricultural use, and suchlike, we cannot guarantee that the track is in a good state of repair. Every year, we try to repair some of this track.
There are no horses for rent. You always bring your own horse.
The horse-riding map can also be found online on the page of Toerisme Limburg
Find horse-friendly accommodation here.
Suggestion: Vierlandsheren excursion
Junctions 91 - 92 - 93 - 88 - 89 - 90 - 91
Distance 20.8 km
Starting place Ter Biessen, Begijnenbos 11, Lanaken
Different resting places en route
Landscape: dirt track, deciduous and pine forests, ponds, etc.
If you would like to plan your own route, click here.