In 'Connecterra', be surprised by a special piece of nature in Flanders. Where 26 years ago, the Eisden coal mine was still working at full capacity, the rarest butterflies are now fluttering. You can enjoy a surprising landscape of 'hills and lakes' and hill tops with spectacular panoramas! In the 'Connecterra' Café you can enjoy a refreshing drink in a unique place.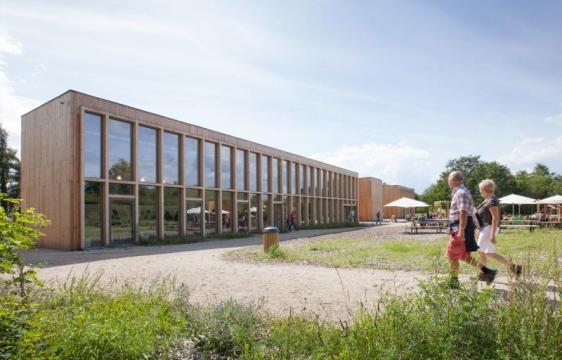 Visitors' lounge 
'Connecterra' is the main entrance gate of the Hoge Kempen National Park. At the visitors' lounge, you will find all the information you need to prepare your visit to the National Park.
Shaft tower
The shaft of the former Eisden mine is an unmissable highlight. Climb the stairs and from 12 meters, you get a unique view of the surroundings as a reward. On the ground floor, the photo exhibition gives you a glimpse of the mining site's past. 
Most beautiful panorama of Flanders
After the elimination of mining activity, nature was given free rein. 'Connecterra' has four mining-stone hills, three of which are accessible. From their peaks, you have an unforgettable view of the surrounding landscape of the Meuse valley and the Hoge Kempen National Park. From the visitors' lounge, the shortest route to the panorama of the long mining-stone hill is signposted. The panorama app explains everything you see in front of you. If you have more time and strong calf muscles, you can climb all three of them via the yellow walk.
Visitors' lounge: garden room with summer arch and terrace

Brasserie De Karbonkel, T: +32 89 38 67 65
Terhills hotel, www.terhillshotel.com, T: +32 89 73 09 09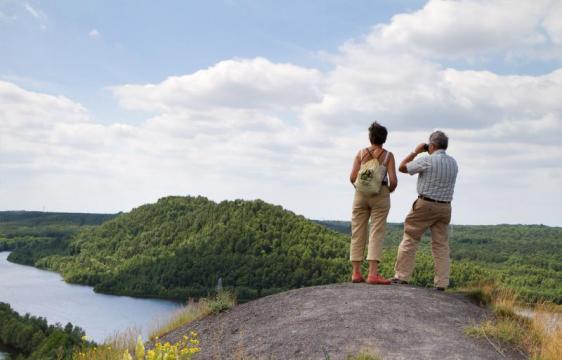 The 'Connecterra' hiking area boasts five signposted hiking loops. 
In a nutshell:
the most beautiful panorama of Flanders
ponds and mining-stone hills
mining history
challenging climbs
Would you rather go exploring with a Ranger? Click here
It is not possible to cycle in 'Connecterra' itself. The paths are only accessible for hikers
Opening hours
Open daily from 10.00 a.m.
Closed at 6.00 p.m. between April and September
Closed at 5.00 p.m. between October and March
Tickets
'Connecterra' is an enclosed area and a small financial contribution is requested from visitors. This allows both nature and visitors to feel at home here.
Day ticket: € 3 p.p.
Groups (from 15 people): € 2.50 p.p.
Schools: € 1 p.p.
Children under 3 free
Season ticket € 5 p.p. (valid until 31 December 2018)
Contact
'Connecterra', Zetellaan 54, 3630 Maasmechelen
T: +32 (0)89 44 04 44, info@'Connecterra'.be